Wikipedia: Luther's First Edition Omitted the "Apocrypha"
265
16
37
24.03.2023
139908
4320
168
04.08.2020
US
Did Luther's German Bible omit the Deuterocanon (Apocrypha) from its table of contents? If it did, it would show a total rejection of these book. According to Wikipedia he did, but is this so? WIKIPEDIA ARTICLE: 🤍en.wikipedia.org/wiki/Luther_Bible STRAND'S ARTICLE WITH PLATES: 🤍digitalcommons.andrews.edu/cgi/viewcontent.cgi?referer=&httpsredir=1&article=1914&context=auss BRECHT'S BOOK: 🤍archive.org/details/martinluther0003brec/page/n5/mode/2up PLEASE SUPPORT OUR CHANNEL BY SUBSCRIBING, SHARING, LIKING AND VISITING US ON PATREON! #apocryphaap #Apocrypha #Bible Support us on: Patreon.com/GaryMichuta Patreon.com/PatristicPillars Website: 🤍HandsOnApologetics.com Books: Why Catholic Bibles Are Bigger (2nd edition) 🤍shop.catholic.com The Case for the Deuterocanon: Arguments and Evidence: 🤍shop.catholic.com
Кадры из видео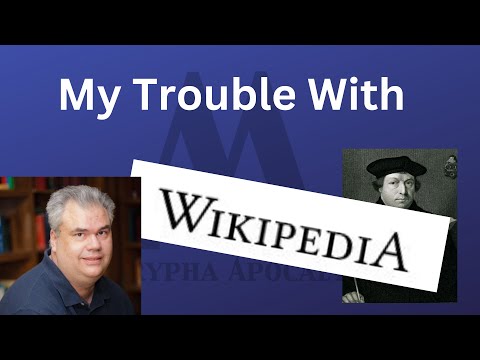 Комментарии пользователей:
legacyandlegend
2023-03-24 20:59:34
I thought Luther translated the so called apocrypha himself. So Melanchthon and Jonas translated it...interesting. I love this channel.
Tony L
2023-03-24 17:22:01
I just tried to edit it in Wikipedia. Did it work?
Tony L
2023-03-24 17:18:49
​"numbered" =/= "numbered among." Understandable error but still error. That subtitle "preservation of the church" is pretty funny.